Witches Are After Putin! – The Marshall Report
YOU CAN'T MAKE THIS STUFF UP!
Slavic folk mythology and tales of their witches of the craft, enter to help Zelensky in Ukraine. These practitioners gathered to curse Putin and bring him down. So far Putin hasn't been phased by the enchantments. But, just to make sure, another rite of practitioners (witches) have taken to their craft to protect Putin.
If anyone ever doubted this wasn't a Satanic attack on God's people… all you have to do is LOOK AT WHAT HAS COME OUT INTO THE OPEN!
NOW SOME WOULD SAY THIS IS A BUNCH OF FAKE NEWS AND MORE PROPAGANDA…but we already knew this entire RESET was an evil plot devised by reptilians who worship Satan, so this is just another opportunity for the Luciferians to shove their underworld in our faces. I am sure there is a sick motive behind all of this…but, what I have pondered and (I'm not going to say discerned because this has many layers) so I will say what it appears like is the veil has been torn down and we will now be seeing everything of the dark side. All the things we were told don't exist are now in our face claiming attention. LOOK AT ME…LOOK AT ME…and Zelensky is now ranting…we had to resort to witchcraft because no one has given him a nuke. (Or something like that). Can you even imagine what he would do if he were given such a weapon?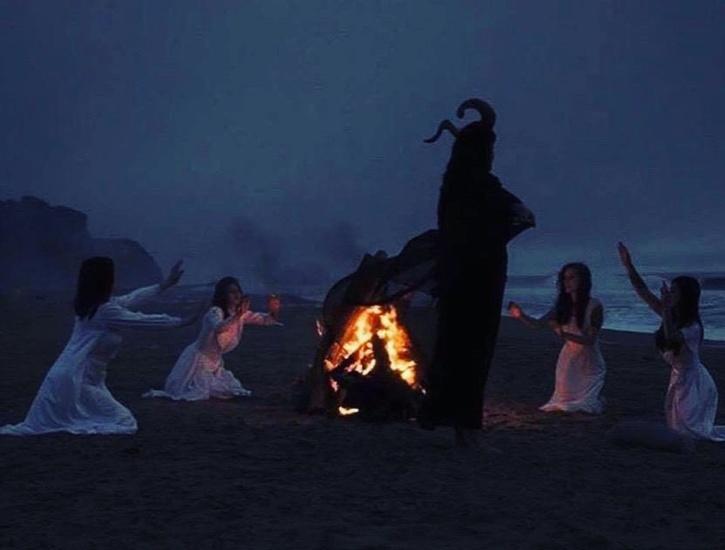 "On March 31, on the 29th lunar day, the day of corruption and curses, we, the witches of Ukraine, in collaboration with foreign partners, will perform a ritual of punishing the enemy of the Ukrainian people – Vladimir Putin," 
"Our rite has been developed by a team of serious practitioners from day one. We are ready. We did a lot of preparatory work, breaking through the defenses of enemies, carefully planning and selecting rituals," stated the witches. ttps://i.tribune.com.pk/media/images/download1648296438-0/download1648296438-0.jpg
In video below, the Pope's Dark Rite thing with the fire…sure looks like a sophisticated version of the Witches in Ukraine (photo above). I mean no disrespect; it is merely an observation.
But then again… I'm not the only one noticing a few odd things… Catholics are too!
Catholic World in Shock as Pope Francis Questions the Resurrection of Christ on Easter Day
On Easter day, overlooking St. Peter's Basilica, Pope Francis offered his blessing to the world known as "Urbi et Orbi" in Latin. In his words, the war in Ukraine and all other conflicts on the planet took center stage but the Pontiff's words included an unexpected passage that has already brought words of criticism from all over the world.
The Pope said: "Our eyes are incredulous, in this Easter of war. We have seen too much blood, too much violence. Even our hearts have been filled with fear and anguish, while many of our brothers and sisters have had to shut themselves up to defend themselves from the bombs. We find it hard to believe that Jesus has truly risen, that he has truly conquered death. Could it be an illusion? Fruit of our imagination? "
The words of Pope Francis were criticized by one of Italy's leading newspapers Libero, as "a shocking and disruptive message questioning the resurrection of Christ on Easter Day."
We have known for a while the Ukrainian troops have been using their Luciferian dark enchantments and their rituals from photos taken inside damaged strongholds in Ukraine showing all sorts of occult esoteric Satanic ritual props.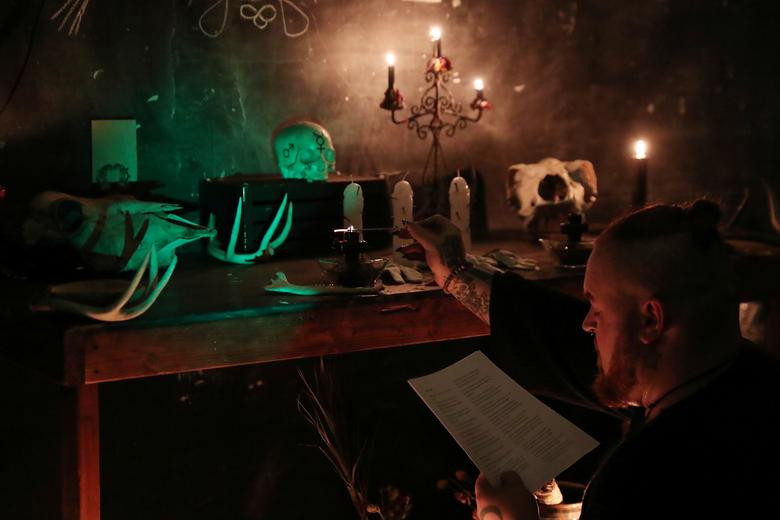 Meanwhile….In Another Report: Witches Gather in Moscow to Support Putin, Curse His Enemies…
The Russian Orthodox Church has also publicly stated the Ukrainian government is using "witches and satanic rites" against the Russians. Orthodox Priest Andriy Tkachov says "Ukraine has nothing left but to ask for help from demons."
The Russians have issued plenty of proof they really are fighting Satan worshipers.
ROC says Ukrainian authorities use "witches and satanic rites" in war with Russia – video – News84Media.com
Report: Witches Gather in Moscow to Support Putin, Curse His Enemies | CNSNews
So how is all this working out?
Benjamin Fulford reported
"So let's take another look at the KM people (Khazarian Mafia) who now run the Western Worlds' financial system and mega-corporations. They explicitly and repeatedly have said "in order to save the environment" they want to kill 90% of the worlds' population of "useless eaters." After the alliance told them that -if they were sincere in their wish to kill 90% of people- they could prove this by agreeing to be the first to die, the KM have changed their tune. Now they are saying they will put 90% of people on "basic income," and keep them playing video games while stoned on drugs.
Yuval Harari, the Guru of World Economic Forum head Klaus Schwab Rothschild, says things like: Humans are now hackable animals, free will, that's over…this story of Jesus rising from the dead, that's fake news…Covid is the moment when surveillance started going under the skin….The biggest question over the coming decades will be what to do with all these useless people."
Fulford said, "Although these people are definitely not God, they remain powerful and dangerous. The Khazarian Mafia politburo is the Octagon group headquartered around Lake Geneva in Switzerland. They control Western leaders such as Boris Johnson of the UK, Emmanuelle Macron of France, Justin Castro of Canada and of course the fake regime of Joe Biden.
"They also control the Pope via his personal security, the Swiss Guard. After Pope Francis went rogue on them, they replaced him, first with a hologram and then with a rubber mask-wearing impostor.
"Take a look at this picture as "Pope" Francis' hat flies off as he leads Easter Sunday mass at the Vatican 
"You can see that it is NOT Francis", stated Fulford.
Keep on Pressing Into The Kingdom of God! Press, press, press!
Dianne
Deep State Update,PATRIOTS VERSUS GLOBALISTS,SAVING AMERICA
#Witches #Putin #Marshall #Report